Levaquin, Cipro, and Avelox
Fluoroquinolones Can Cause You Serious Nerve Damage
Fluoroquinolones: Levaquin, Cipro, and Avelox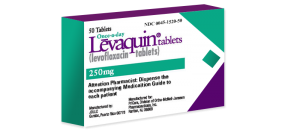 Levaquin, Cipro and Avelox are synthetic antibiotics for oral and intravenous administration that are part of a group of broad-spectrum antibacterial agents called Fluoroquinolones. These drugs are most commonly used to treat severe respiratory, sinus and urinary tract infections and MRSA.  Because of the risk vs benefit analysis, and knowing the true risks of fluoroquinolones, the companies should not have have marketed these antibiotics to the healthcare community as a first-line antibiotic to use for minor infections.  First patented in 1987, they were approved for patient prescription and sale in the United States in 1996.
After decades of use, the FDA noted as early as 2001 the association of Peripheral neuropathy lasting longer than 1 year in patients using Levaquin and other fluoroquinolones [Cipro, Avelox].  In 2004 the manufacturers added a section in their warnings titled "peripheral neuropathy" – however they told the healthcare community and the public that these reports were "rare" and were reversible upon discontinuation of the antibiotic.  Both of these statements are unsupported by the companies own clinical data and the FDA required them to correct their warnings information in late 2013.
In 2013, the FDA conducted a review of the Adverse Event Reporting System database and noted the companies failed to adequately describe the "rapid onset and risk of permanence" regarding peripheral neuropathy and required another label-change to fluoroquinolone antibiotics.
As of today, lawsuits have been filed against the makers of Levaquin, Cipro and Avelox for their failure to adequately warn about the true risks and permanency of peripheral neuropathy.
Peripherial Neuropathy Side Effects Of Levaquin, Cipro and Avelox
Peripheral neuropathy, a permanent disease of the nerves in the arms, hands, legs and feet has been linked to the use of fluoroquinolones, including Levaquin, Cipro and Avelox.  After using Levaquin, Avelox and Cipro, patients (who are not diabetic) have reported the following types of adverse and sometimes permanent side effects:
numbness, burning pain or tingling in arms, hands, legs or feet
nerve damage in arms, hands, legs and feet
loss of feeling in arms, hands, legs and feet
muscle weakness in arms, hands, legs and feet
pain in arms, hands, legs and feet
slower reflexes in arms, hands, legs and feet.
How Nurse Attorney Liz Dudley Can Help You
If you or a loved one have been diagnosed with peripheral neuropathy or the above symptoms, after taking Levaquin, Avelox or Cipro, you need to act now to protect your rights.  You may also be eligible to seek compensation for your injuries.  Nurse-Attorney Dudley's law firm has a history of experience and knowledge in the field of pharmaceutical and personal injury litigation.  She has also successfully represented clients nationwide in a variety of pharmaceutical and device lawsuits.  But what sets Nurse-Attorney Dudley apart is her personal involvement with every case, ability to find top medical experts to testify in their case and personal interest in helping clients find the best doctors to assist them in recovering from the injuries caused by defective drugs and devices. To schedule a free case review, please contact our law office or fill out the contact form to your right.  Do not wait.  The law limits the time you have to file a claim, so contact us today.
DISCLAIMER:  Levaquin® is a registered trademark of Johnson & Johnson; Cipro® and Avelox® are registered trademarks of Bayer Healthcare Pharmaceuticals. This advertisement is not associated with Levaquin®, Cipro®, or Avelox®. Consult your doctor or physician before starting or stopping any medications.