Pulmonary Embolism: Facts, Risks And Natural Prevention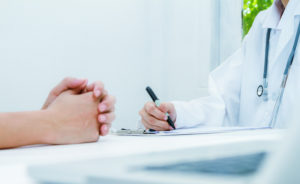 Pulmonary embolism is a dangerous condition caused by blood clots. Blood clots, which can block major blood vessels in the body, may be extremely painful and even lethal. Recognizing the symptoms of blood clots is critical to staying healthy. Whether you have experienced the effects of blood clots before or are looking for preventative methods, former nurse and current attorney Elizabeth "Liz" Dudley weighs in.
What Is Pulmonary Embolism And Why Is It Dangerous?
In a healthy body, blood clots occur to slow down bleeding after an injury. When a blood vessel is damaged, platelets stick to the walls and to each other in that area. This forms a plug that fills the broken portion, stopping blood from leaking out.
But blood clots don't always develop as a natural and healthy process. Sluggish blood flow from lack of motion, such as after surgery or confinement to a bed, can result in blood clots of the deep veins. This condition, called deep vein thrombosis, usually occurs in the legs and can lead to pulmonary embolism. Pulmonary embolism results when blood clots get wedged into an artery of the lungs. The portions of the lungs that use the blood from these arteries do not get adequate blood supply and may die, making it more difficult for the lungs to function.
Symptoms Of Pulmonary Embolism  
Blood clot and pulmonary embolism symptoms can vary from person to person. The size of the clot, the amount of lung damage, and certain pre-existing medical conditions can affect the way in which symptoms present.
Common symptoms include:
        

Sudden shortness of breath that worsens with exertion

        

Stabbing chest pain, especially when taking a deep breath

        

Unexplained cough that may contain bloody mucus
Pulmonary embolism can be life-threatening. Seek immediate medical attention if you experience any of the above symptoms.
Other symptoms include:
        

Leg pain and/or swelling, commonly in the calf

        

Discolored or clammy skin

        

Fever

        

Irregular or rapid heartbeat

        

Excessive sweating

        

Lightheadedness or dizziness
Treatment Of Pulmonary Embolism
A pulmonary embolism diagnosis can be scary. Timely treatment is essential to prevent serious complications, worsening damage or death. Courses of action vary depending on the patient's medical history and the severity of the condition.  Treatment usually focuses on keeping the clot from getting bigger and prohibiting new clots from forming.
Doctors may prescribe blood thinners to inhibit new clots from forming while your body works to break down the existing ones. Clot dissolvers are also used to help break them down, but because these drugs can cause severe bleeding, they are usually restricted to life-threatening situations.
Inferior Vena Cava or IVC filters
IVC filters are devices inserted into the inferior vena cava, or IVC, which is the large vein feeding into the lungs. The IVC is the primary vessel returning blood from the lower half of the body to the heart. IVC filters were designed to catch blood clots and prevent them from entering the lungs.
Defective IVC filters
        

Bard – Bard Recovery filter, Bard G2 filter, Bard B2 Express filter

        

Cook – Gunther Tulip, Celect

        

B. Braun – CORDIS, Boston Scientific
Defective IVC filter risks
The defective IVC filters are small, cage-like devices somewhat resembling a spider. These cages are placed against the walls of the inferior vena cava and are intended to capture blood clots and prevent them from migrating to the lungs. However, the metal legs of the filter can break off and be swept away by the bloodstream, potentially entering the lungs, heart and other organs. The risk of this increases with the amount of time the device remains in the body.
The FDA recommends the prompt removal of IVC filters after pulmonary embolism is no longer a threat. However, these companies marketed these as permanent devices, putting patients at severe risk.
Reports of defective IVC filters include:
        

IVC filter fracture

        

IVC filter migration

        

IVC filter emobilization or movement to the heart and lungs

        

IVC filter perforation into vessels and organs

        

Pulmonary Embolism

        

Respiratory problems

        

Stroke

        

Difficulty removing the device

        

Death
Pulmonary Embolism Prevention: Natural Tips
The healthiest and safest pulmonary embolism treatment is prevention. Identifying risk factors of the disease and determining whether or not you are susceptible are essential to taking preventative measures.
Risk factors include:
        

Heart disease

        

Cancers such as pancreatic, lung, and those with metastasis

        

Recent surgery

        

Immobility from bed rest or long plane/car trips

        

Smoking

        

Being overweight

        

Supplemental estrogen from birth control or hormonal therapies

        

Pregnancy
If any of these conditions apply to you, preventative action is advised. Luckily, there are many natural things that you can do to decrease your risk of developing pulmonary embolism.
Natural pulmonary embolism prevention:
        

Healthy, balanced diet

        

Quitting or abstaining from smoking

        

Exercising regularly – at least 150 minutes per week

        

Maintaining a healthy weight or losing weight if you are overweight or obese

        

Performing simple leg exercises like flexing your ankles during long periods of sitting

        

Taking periodic short walks at work, on planes or during other instances of immobility

        

Wearing compression socks to increase blood flow

        

Taking advantages of gas and food stops when taking a long car trip
Have You Been Affected By A Faulty IVC Filter?
You do not have to deal with the effects of your IVC filter-related injuries alone. The Dudley Law Firm understands that money, time, and emotional resources are drained when fighting to attain recovery. Contact us for a case evaluation, and we can start to head down the road to recovery and justice together.