Ovarian Cancer Risk: Talcum Powder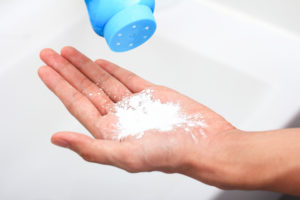 Genetics, reproductive history and age are just a few of the risk factors we think of for ovarian cancer.
Most women wouldn't believe that their risk for cancer is sitting in their bathroom cupboard.
Talcum powder has been used as a household product for decades — including its use for feminine hygiene. Thousands of women have now come forward sharing their diagnosis of ovarian cancer and the use of Johnson & Johnson's ["J&J"] talcum powder. This discovery is, by no means, a new revelation. In fact, the connection between ovarian cancer and talcum powder has been suspected for years, with evidence of the association found in the 1970's.
So, if evidence was found in the 1970s, why weren't consumers informed about the risks of talcum powder? Manufacturing giant, Johnson & Johnson has continued to deny the cancer risks of their product and believes the medical evidence to be inconclusive.
Remember the Tobacco industry's mantra that cigarettes do NOT cause cancer – despite the mounting, scientific evidence to the contrary?  J&J is using the same tactic, but the public and juries are not buying it. Recently, multiple juries have awarded millions of dollars to victims who used J&J's Talc products for years and developed ovarian cancer — never knowing or being informed of the risk.
Former nurse and now attorney, Elizabeth "Liz" Dudley understands this risk and is accepting such cases.
The Rise Of Talcum Powder
Talcum powder is made by crushing the mineral talc. Talc consists of several elements including magnesium and silicon. This product became popular for its ability to absorb moisture and prevent skin irritation or chafing. For this reason, talc is an ingredient used in a variety of products including deodorant, foot powders, and hygiene powders. However, scientific literature starting in the 1960's has associated various cancers as being associated to Talc exposure.
This powder is most notably used on babies during a diaper change, but it was also marketed to women for feminine hygiene purposes. Women would dust the product in underwear and in the genital area to avoid discomfort or vaginal odors. For many Americans, using talcum powder became a normal daily routine for cleanliness. In fact, doctors would recommend that women use it!
What women, their doctors and the FDA didn't realize at the time was that the powder could make its way through the vagina and travel into the ovaries. The reproductive system of a female enables upward mobility from the vagina to help sperm travel to fertilize eggs in the uterus. With this in mind, talcum powder can easily make its way through the vagina, cervix, the uterus, the fallopian tubes and into the ovaries of a woman.
Researchers have found that this is likely what happens when a woman develops ovarian cancer after years of consistent talcum powder use. This is likely true, due to the fact that doctors have found talc particles inside cancerous ovarian tissue. In some instances, talc particles have also been found in pelvic lymph nodes, which tells us that the particles can make their way out of the fallopian tubes and into the abdominal area.
Discovering Ovarian Cancer Risk
Scientists noted the connection between the use of talcum powder and ovarian cancer as early as the 1960's. In 1971, the seminal study was published in The Lancelet Journal and noted that most ovarian cancer tissues had particles of talc in them.
Another important study was completed in 1982 by a Harvard professor. During the study, researchers compared 215 women with ovarian cancer to 215 healthy women. The study found that women who used talcum powder were at nearly twice the risk of having ovarian cancer. Another study in 1992 found that those who used it regularly on their genitals or a sanitary pad were at more than three times the risk for ovarian cancer.
Johnson & Johnson's Failure To Warn Women
With so many studies proving the connection between talcum powder and ovarian cancer, why didn't Johnson & Johnson provide a warning label on their product?
The CEO of Johnson & Johnson was notified by a member of the Cancer Prevention Coalition back in 1994 of the scientific evidence linking their product to the development of ovarian cancer. Although the company was urged to include a warning label, they failed to do so.
Is there a safer alternative?  Yes – it's called cornstarch!  Johnson & Johnson could have opted for cornstarch powder as a safe alternative for talcum powder decades ago.  Cornstarch powder has no association with ovarian cancer and works as effectively as talcum powder. We have evidence that J&J knew this, but made the choice to not warn women, doctors and the FDA of the published association of talc and cancer. They continue to deny this association to this day.
Without any warning labels, many women continued to use talcum powder as a feminine hygiene product.
One woman, in particular, Diane Berg, sprinkled her underwear with the product for most of her life. The Sioux Falls, South Dakota woman was diagnosed with ovarian cancer in 2006 at just 49 years old. She filed the first talcum powder lawsuit in 2009 for gross negligence and fraud against Johnson & Johnson. The company offered her a court settlement of $1.3 million if she dropped her case and all accusations pertaining to their product. After finding out she would have to sign a confidentiality clause, Berg refused their offer.
Although Berg received no monetary compensation for her case, she admitted in an interview that "it was never about money." Instead, she was concerned about warning more people about the dangers of using talcum powder.
Johnson & Johnson hasn't been off the hook for other cases. In a multidistrict litigation ["MDL"] case from October of this year, a St. Louis jury ordered the pharmaceutical giant to pay a hefty total of $70 million to a California woman who was diagnosed with ovarian cancer in 2012 after years of talcum powder use. Johnson & Johnson was also ordered to pay $127 million in damages to two other families earlier in 2016.
These first jury trials and verdicts are important because they disclosed evidence of what J&J knew and their continued failure to change their product or warn consumers of this risk.  These first trials also set the tone for future verdicts against Johnson & Johnson and sent a message to the company. However, others have speculated that the company will most likely continue to refuse settlement until they absolutely must, regardless of attorneys telling them to do the right thing.
Some have argued that New Jersey is the best location for the MDL since Johnson & Johnson is headquartered there. However, many also consider keeping these cases in state courts where juries have awarded mega-verdicts to women who have been diagnosed with ovarian cancer survivors and victim's families.
The Dudley Law Firm represents clients from all over the country and is dedicated to protecting the rights of women who have developed ovarian cancer from using J&J's Talc products:  J&J's Baby Powder, J&J's Shower to Shower.
Contact The Dudley Law Firm
The company's denial of ovarian cancer risks has been compared to the tobacco industry's long denial of the dangerous carcinogenic properties of cigarettes. Denying the health risks of their Talc products ignores scientific, peer-reviewed medical research and over 20 epidemiology studies which show 2-3 times increased the risk of cancer.
If you or someone you loved have been diagnosed with ovarian cancer and used J&J's talc product, contact the Dudley Law Firm today! To find out more about how Liz Dudley can help you, call to schedule your free case evaluation as you have a limited amount of time to protect your rights.