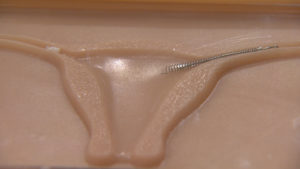 Since Essure first hit the U.S market in 2002, countless women have come forward with complaints about the permanent birth control device. There have been numerous complications due to Essure, ranging from device migration, perforation of various organs requiring a hysterectomy or other surgery and/or severe abdominal pain.  In some cases the device did not even prevent pregnancy!
Attorneys investigating this device have evidence that Bayer, the manufacturer, withheld thousands of severe, adverse event reports from the FDA.  Once the FDA received only some of these, The U.S Food and Drug Administration ordered Bayer, the makers of Essure, to conduct a post-market surveillance study and to include a 5 page risk checklist for patients. While these are all steps in the right direction, what happens to the women that have already suffered due to Essure?
Choosing the right permanent, low risk birth control isn't just a matter of health. For most women, this decision will impact their lives and loved ones. As with any medical decision, being fully informed about potential complications is critical to making the right decision.
For those suffering from the destructive consequences of using Essure, former nurse and now attorney, Liz Dudley is on your side. As a women's health advocate, Liz understands the severe impact Essure complications can have on your life. Whether it be physical injuries, medical expenses or physical pain and suffering, these complications need to be addressed.
What is Essure?
Essure is a permanent birth control device for women. This particular birth control method is appealing for many because it is supposed to be a minimally invasive procedure, done in the doctor's office versus having surgical tubal ligations. The birth control insert is made from a variety of materials, including nickel-titanium alloy and it does not contain any hormones.
The device is placed into each of your fallopian tubes. After the device is placed, tissue will build up and act as a natural barrier that keeps sperm from reaching the eggs. Other forms of birth control must be used for three months before the effectiveness of Essure can be confirmed. The process may take slightly longer in some women, which will require another confirmation test at six months.
The positives of this birth control option are obvious; It is a minimally invasive procedure that is non-hormonal and allows women to recover quickly after the device is placed. According to product manufacturer clinical study data, Essure is 99% effective at permanently preventing pregnancy.
Complications From Essure
For countless women, Essure has caused significant harm, including surgical repair of perforated organs from the Essure migration out of the fallopian tubes, hysterectomies, autoimmune disease [from the nickel leaching into the body] and excruciating pelvic pain. Other complications include:
Perforation of the uterus or fallopian tubes
Intra-abdominal device migration
Surgical procedures to repair internal damage caused by Essure
Abnormal/irregular bleeding
Allergic reactions
Unintended pregnancy
Other reactions not found in clinical trials but noted in reports submitted to the FDA include excessive fatigue, weight changes, mood changes, muscle weakness, muscle or joint pain, and hair loss. In fact, according to a former FDA analyst, Madris Tomes, physicians and nurses have reported more than 300 problems with Essure since August of 2015.
Unfortunately, an analysis by the FDA in May of this year found that hundreds of Essure reports had been mislabeled. In the reports, the occupation of the individual reporting was entered as "other" instead of "physician." A spokeswoman from the FDA blamed the error on a computer glitch but others have suggested that the mislabeling was no mistake.
Since the FDA has taken a closer look at Essure complaints, actions have been taken to provide more information about the risks. Bayer is now required to change product labeling by including a box warning and a patient decision checklist to ensure women understand the benefits and risks of this birth control device.
The Real Cost of Essure For Women's Health
Regardless of FDA recommendations and Bayer Pharmaceutical's failure to timely warn women and their doctors of the increased incidence of serious injuries, we'd like to focus on what is truly important here — the health of women affected by Essure. Thousands of women have had to endure excruciating pain and additional surgeries because of this birth control.
Stories of these adverse side effects seem to be all too common among women who were not made aware of the risks associated with Essure. A case back in September 2015 published in Refinery29 highlights the case of 37-year-old Sharilyn Ervin, a woman in California who is one of many negatively impacted by Essure.
Ervin opened up to the panel of representatives from the FDA about the pain she and her family has had to deal with:
 "My 12-year-old was my caretaker. She had no life at 12. She changed my diapers," Ervin explained.
Ervin stayed in the hospital for 17 weeks and her daughter helped to care for her after she experienced severe injury from Essure implantation. Ervin experienced cramping, bleeding, and loss of bowel control.
Evidence of the dangers of Essure continue to mount and women who have experienced injuries have come together. A Facebook group called "Essure Problems" has more than 30,000 members. This online community is meant to support those who have been affected by Essure.
These women refer to each other as "E-Sisters" and are committed to spreading word of the dangers of Essure. The Facebook page is a part of a non-profit organization called ASHES, Advocating Safety in Healthcare E-Sisters. This group formed from a group of women who were advocating the dangers associated with the birth control device. Now ASHES aims to focus on the need for proper education regarding any type of procedure, medical device or drug.
Contact The Dudley Law Firm
Although organizations like ASHES help support those who have been negatively impacted by Essure, it is not enough to simply have this support. For many women, side effects from Essure have resulted in life-changing physical injuries and emotional distress.
If you have experienced injuries due to Essure, we strongly encourage you to take legal action as your time to file a claim is limited by state law. Doing so will not just help you, it will continue to draw attention to this problem and educate others about the dangers of Essure.
You are not alone. Thousands of other women have suffered from the same issues. Liz Dudley is passionate about helping her clients protect their legal rights and receive the entitlement that they are owed. Liz knows that you are not just another case number.
Your story, your health, and your legal rights are important.
To get started on your case, contact our office today for your free case evaluation!